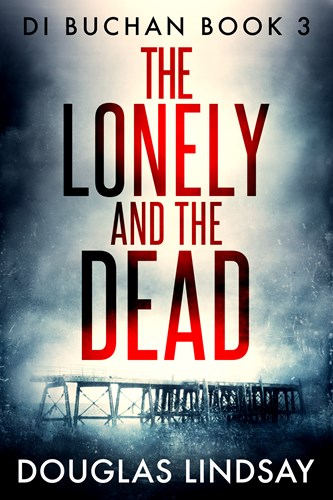 DI Buchan Book 3 - THE LONELY AND THE DEAD
Added at 11:31 on 16 March 2023
Today sees the release of the third book in the DI Buchan series, THE LONELY AND THE DEAD. Following the first two titles' trip into the world or art, literature and film, The Lonely And The Dead revolves around music and a TV crime thriller adaptation.
I didn't start writing Buchan intending the plots to centre around the various arts worlds, but that's how it's working out, and now I'll likely stick with the theme. I enjoy writing about cinema and TV, I enjoy creating characters and situations around fake shows and movies, and naturally, I find it easy to write about writers. So that poor bastard Buchan is now stuck dealing with this kind of thing. In one scene in this new book, his Chief Inspector (only half-jokingly) suggests setting up a specialized Arts Crime Division.
This one wasn't really supposed to be about writers at all, particularly after they were the focus of Book 1, but then it happened, nevertheless. I'm obviously troubled by the issue of a killer's motivation. Why does anyone kill anyone else? In real life, there's a lot of domestic violence, there's alcohol and drugs, plus the related fighting outside a pub at one o'clock in the morning. I don't know how many people write crime novels about any of those things, but I try to avoid real life as much as possible. Far too depressing.
Writing several crime novels a year requires a lot of motive, made harder when the majority of real-life motivations are removed from the process. This I find the toughest part of the job, and in Buchan 3, since it comes down to the writing of the TV show, and where the storyline comes from, I found myself addressing the motivation-in-crime-fiction question.
Is the title The Lonely And The Dead at all relevant in any way? Nope. Just thought it sounded like a decent crime novel title, with a bit of a 1940's noir-y kind of a vibe.
Here's the blurb:
A man hangs by the neck from a derelict pier on the Clyde, while a haunting melody plays on a loop. Not until the pathologist discovers that the victim was already unconscious before he was hung, do the police realise this wasn't suicide.
DI Buchan and his team are called. The victim was a composer, who'd been working on the soundtrack of a TV serial killer show. The show, plagued by in-fighting, is in post-production. An uncomfortable air of angst and anger hangs over it. Wrath has been unleashed.
As the short, claustrophobic days of a cold, bleak January continue, another member of the production team dies, and a real-life serial killer has been let loose…