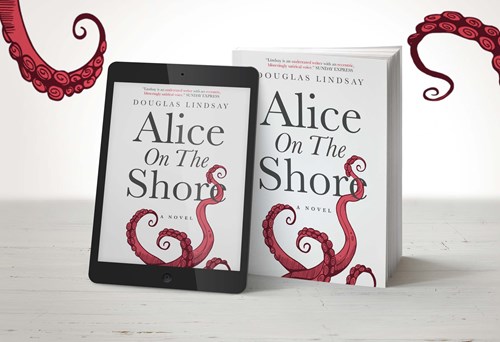 Alice On The Shore Out Now
Added at 09:28 on 21 June 2023
This month's major release from publishing giant Long Midnight Publishing is a short literary novel entitled ALICE ON THE SHORE.
Regular readers will be familiar with the short story, Aged Eight, Alice On The Shore, which appears at the beginning of the collection Cold September. Rather than being a novelisation of that story, the novel Alice On The Shore tells the story of a movie production adapted from the original short story, filmed in the north-east of Scotland. Here's the blurb:
The movie production had everything. A great script. The perfect cast. A series of disasters…
Ethan is working as security on the set of an independent film, Alice On The Shore, in a quiet town in the north-east of Scotland. Security-wise he is underemployed, as he sits in the small field overlooking the sea, little more than an onlooker as one peculiar calamity after another befalls the seemingly ill-fated production.
Ethan has his own secrets, however, which will stop him getting too close to anyone, including Sandy, the young second assistant director. Nevertheless, Ethan and Sandy form a peculiar bond on the borders of romance, as Sandy's role in the production grows ever more prominent.
Alice On The Shore is a short novel of unexpected depth and complexity, a perceptive look behind the filmmaking curtain, that draws you quickly into its wonderful cinematic world.
Sometimes people ask what is a literary novel? Indeed, I pretty much get asked it every time I mention that (I think) I'm writing one. Let's consult Wikipedia:
… refers to market novels that do not fit neatly into an established genre; or, otherwise, refers to novels that are character-driven rather than plot-driven, examine the human condition, use language in an experimental or poetic fashion, or are simply considered serious art.
So where does Alice On The Shore fit in this pantheon of non-genre?
Obviously it's serious art.
For anyone interested in the influences and motivations of the writer, (and I will say that I personally am never interested in a writer's motivations), this is the kind of novel I read. Short, non-genre, one reads it perhaps not entirely sure what it's about or what the point of it is, then you get to the end and still don't know, or you think, ah, that's what was going on, makes sense now.
So, in the full awareness that far fewer people will be interested in this than Hutton 11 or Buchan 4, (but wishing more would be), here's Alice On The Shore. Click here to share in the magic.
Comments
Billy - 13:47 on 21 June 2023

Can't wait Douglas! Sounds interesting to me!

Thank you! 😊 d

Wally Dug - 21:53 on 21 June 2023

I'm looking forward to this, too.

I love how you seem to write in different styles for each series or standalone novel, yet there are still plenty of "Lindsayisms" in each of them that mark them as yours.

Incidentally, I finished "Cold Cuts" last night. (No, I wasn't slow, but needed to read "A Winter Night" first - another highly enjoyable read.) I really liked "Cold Cuts", but that ending? Wow!

Thanks for all your work, Douglas, it is appreciated by a small number of loyal fans.

-------

Good to hear, thanks! Much appreciated. Aye the ending of Cold Cuts is part creepy, part utterly preposterous. Like all the best endings... d

Markus - 10:37 on 04 August 2023

Douglas Lindsay goes Murakami? Sold! That is the epic mashup of two of my favorite things that I've been waiting for without knowing it. Forget Barbenheimer. Praise Lindsaykami!
_____

D: Ha! Aye, that's about the size of it! Though it's not anything like as Lindsaykami as Being For The benefit of Mr Kite!