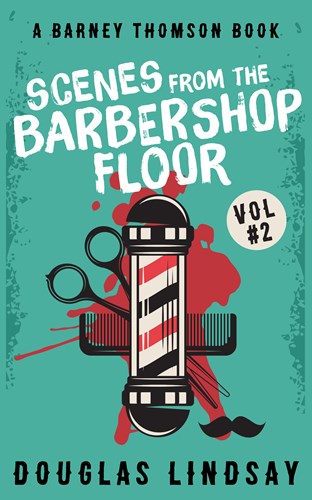 New SCENES FROM THE BARBERSHOP FLOOR Ebook
Added at 09:45 on 01 June 2021
In publishing news, the second volume of episodes from SCENES FROM THE BARBERSHOP FLOOR is now out in ebook form. The paperback edition will be available sometime in the next couple of weeks.
The crack editorial team here at Long Midnight Publishing spent many hours working on an exciting and original name for this comedy sequel. It was tough, and so in the end we farmed the work out to exclusive marketing consultants Brigham & McCartney of New York, and after the completion of the $3.75m contract, it was decided that the book should be named SCENES FROM THE BARBERSHOP FLOOR: VOL. 2. It is a name that will surely be added to the publishing lexicon, to be spoofed and lampooned for centuries to come.
Here's the blurb. Click here to share in the magic.
---
"If we sit here long enough, nothing will happen…"
The cultural landscape of the early 2020s has been culled once more, and the barber-philosophers of Millport are back, in another series of episodes in the life of the world's most famous barbershop.
Customers come and go, great vessels sail down the Clyde on their way to the dinosaur plantations off the coast of Costa Rica, and the pile of newspapers lie unread on the customers' bench, barking impotent headlines of modern-day Britain: Hero Johnson Fathers Six More Kids In Brexit Bonanza and Hancock Cuts To Chase, Kills OAPs With Bare Hands and I Spit On Your Grave, Crows Raab, As He Steps Over Cold Corpse Of Overworked Civil Servant and Blair Returns With 5 Great Reasons For New Iraq Invasion and Love Island Babe Wakes From Covid Coma With New Boobs, Speaking Pure Maths.
From Coronavirus and Trump, to fake Bond villains and the need for a new Bublé Christmas album to save humanity, all the great topics of the times are covered. And at the end of the day, when haircuts have been dispensed, and there has been little ado about nothing, our heroes will stand at the window, look out upon the world, drink a cup of tea, and eat another doughnut…