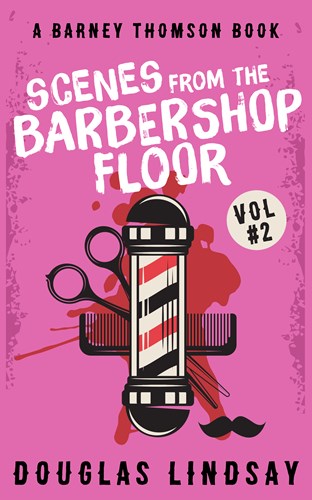 On The (Latest) End of Barney Thomson
Added at 15:18 on 02 June 2021
Those few, those happy few, those band of brothers who reach the end of the latest collection of SCENES FROM THE BARBERSHOP FLOOR – while it's pretty short, and I think most people who start it will likely get to the end, let us not get carried away with how many will start it in the first place – will note that I've kind of rounded it off as though there may not be any more. This might be it. This might be the last of Barney Thomson. (Nobody dies, it's not that kind of "last".)
No one knows. Not even me. But at some stage one has to try to make some money in life, and at some other stage one has to admit that Barney Thomson isn't the way to do it. When you've had a movie starring Robert Carlyle and Emma Thompson based on the character, and it still hasn't broken through, it likely ain't going to happen.
So, for now, Barney and the Millport gang, the shop and the gulls, the restless waves and the packet ships bound for the croissant islands off the coast of Brittany, are going to take a break. They may be back. They may not. I'm not sure what other medium one could find to facilitate the fake tabloid headlines, such as:
Emmerdale Hunk Shagged My Mum Then Killed Her And Wore Her Skin To Asda, Claims Upset Loz
Hero Boris Set To Marry Queen In New Triumph For Britain
Prince Harry's Back, And This Time He's Married To Jennifer Aniston
It's About Time Women Just Shut Up And Made Dinner, Says Raab
which 97% of readers say are the only worthwhile thing I've written in the last seventeen years, so I'm afraid, for now, those too are done.
I could just have finished the series off in any old way, the chaps looking out on the world, waiting for tomorrow to come. But one day soon civilization as we know it will end, we'll all die, and the world will be taken over by a mutant species of giant, flesh-eating spider. And what then for Barney, if I had left it hanging?
So this really is for no one's benefit other than my own, slowly going through my work and rounding it off. First there was Jericho – and yes, I haven't written the third book in the trilogy, but I wrote a blog about how I wasn't going to write the third book, which is the next best thing – now Barney.
As time goes by, I whip the back catalogue book covers into shape. Slowly, very slowly, the plan to have paperback editions of all the ebooks comes together. One day, everything will be neat and tidy and orderly, and my legacy as "a bloke who wrote some books" will be properly packaged and available for future generations to ignore.
So, here it is, SCENES FROM THE BARBERSHOP FLOOR, VOLUME 2, for now, at least, the last of Barney Thomson on earth.